Product Description
Si-Rex03 by Klaas Coatings is a state of the art coating formulated for use on concrete and masonry substrates. Using an advanced silicone resin binder, it delivers a sophisticated looking mineral matt finish with outstanding performance benefits.
Si-Rex03 is unique because it protects the substrate with excellent water repellency while allowing the substrate to breathe almost unhindered. This unique property lowers the relative humidity of the substrate over time. A dry substrate prevents corrosion, degradation and maximises insulation performance. Its strong surface beading also provides a self cleaning effect and excellent resistance to microbial attack. These innovative features make the surface look cleaner for longer.
Key benefits
Hydrophobic
Vapour & Gas Permeable
Self Cleaning Effect
Superior Weather Resistance
Long Repaint Interval
Low VOC (after tinting)
Excellent Touch up
---
Applications
Render
Concrete
Fibre Cement Sheeting
Brick
Masonry
Skim Coat (Polymer Modified)
How does it work?
The silicone resin doesn't just provide water-repellency, its tough, Quartzlike structure acts as "reinforcing" giving Si-Rex03 excellent weather resistance. Si-Rex03 will resist chalking and outlast conventional paint systems. Longer repaint intervals mean less cost. While durability and protection are key benefits of SiRex03, it is the look and finish that people notice. The mineral matt surface eliminates all gloss and side sheen. This allows colours to appear clean and true whilst hiding the surface irregularities which are unavoidable in mineral substrates. By only using the most durable and fade resistant inorganic oxide pigments, Klaas Coatings has produced an earthy colour range that perfectly suits concrete and masonry surfaces. This combination of earthy colours and matt finish avoids the "plastic-coated look" of conventional paint systems. Si-Rex03 rovides a softer, established and natural look that conveys a sense of quality.
Chemical Structure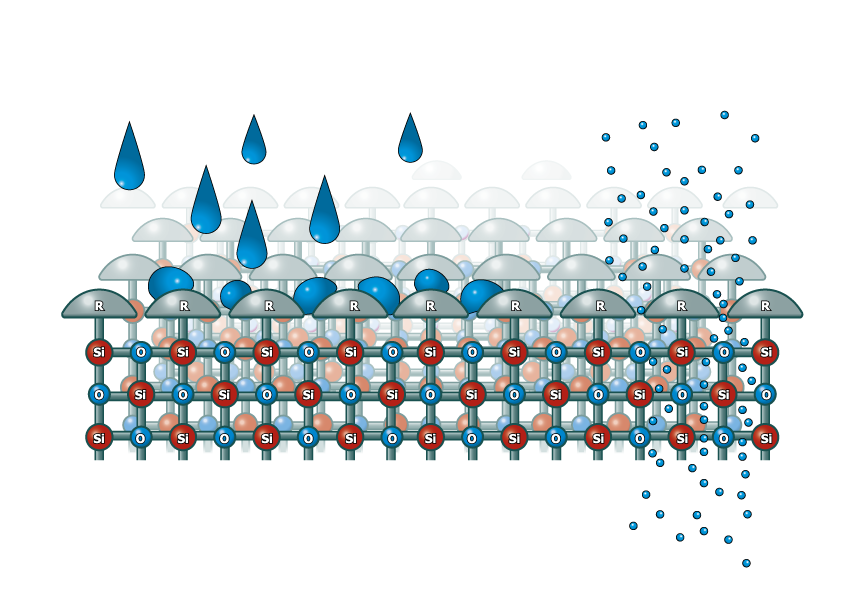 In action