Product Description
A revolutionary & reliable way to waterproof concrete without using a membrane. Radcon #7® is spray applied and penetrates into the concrete and creates a gel within the cracks, pores and capillaries. It incorporates advanced biochemical technology which allows it to seal cracks up to 2.00mm and reseal hairline cracks that develop after treatment. Radcon #7® does not form a film on the surface so it cannot be damaged by traffic or environmental exposure. Radcon #7® is a sub-surface barrier that can accommodate thermal stress.

---
Key Benefits
100% Trafficable - no protection required

Lowers risk - faults are easy to find and fix

Tolerates thermal stresses - gel composition not rigid

Fast and efficient to apply

Treatment will last the life of the concrete

The world's most environmentally friendly concrete waterproofing - more...
---
Suitable Applications
Rooftops
Car-Parks
Bridge Decks
Water Holding
Marine
Specialty

Go to the LIBRARY for more comprehensive information

How does Radcon Formula #7®work?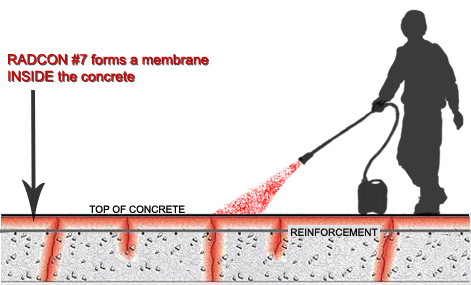 After application Radcon #7® forms a Calcium-Silicate-Hydrate (C-S-H) gel complex. This remains reactive to moisture in the pores and cracks of the penetrated zone. The calcium in the gel reacts with the atmosphere to create a low-calcium gel depositing calcium carbonate, filling cracks and pores. The low calcium gel is "hungry" for more calcium, which is provided by moisture and cement hydration. This cycle repeats over time and finds balance until water ingress is stopped. The biochemical compounds in Radcon Formula #7® are essential for this unique catalytic reaction.
Warranty
Radcrete Pacific provides a 100 year Warranty